Choose the Right Partner for Your Flexographic Printing Needs
Luminite has been in operation since 1926, and our staff is more than happy to share those decades of experience with you. From our in-depth production process that prioritizes quality to our extensive knowledge of maintenance and repair, we can provide you with a quality sleeve and the knowledge of how to properly extend its lifespan.
Maintenance for your elastomer sleeve, for example, should include a soft bristle brush. It should also include the following, depending on the type of ink you use: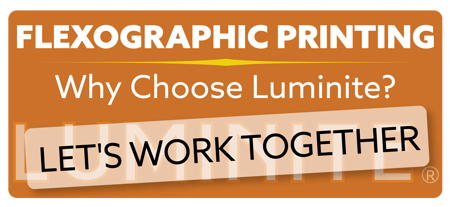 Solvent-based inks: An approved non-volatile washup solution
Oil-based inks: An ink solvent appropriate to your ink type
Water-based inks: Mild soap and water, followed by an isopropyl or industrial alcohol suitable for most rubber types. Rinse again with water.
UV-based inks: An ink solvent appropriate to your ink type
For all sleeves after cleaning:
Wait four hours minimum before storing.
Storage should include the ozone resistant, black-backed protective paper received from Luminite upon delivery of your sleeve.
Stand in an upright position to prevent damage to printing surface. If horizontal storage is necessary, be sure to place on a cushioned surface.
Temperature should be above freezing and below 90˚ F. The storage area should have low humidity levels and be located away from any electric motors, lights or other machinery that generates ozone.